HOME—US Scouting—Boy Scouts of America
Venturing (BSA)
Age Requirements / Advancement / Highest Awards
Venturers no longer have their own Oath and Law, but now make the standard Scout Oath and Scout Law the same as Boy Scouts.
Venturing youth are coed.
Venturing adults are coed, and must be age 21 or older.
Sea Scouting, which was part of Venturing from 1998 to 2016, is now a separate program division (Sea Scouts, BSA).
Age Range / Highest Award
Minimum Age
Maximum Age
Highest Award
age 14 OR
age 13 + finished grade 8
until age 21
(age 18 for Eagle award)
Summit Award
Eagle Scout (male only)
---
Advancement for Venturers
Male Venturers can also earn the Eagle Scout rank (BSA requires earning the ranks through First Class in a Scout troop to prevent females from being able to earn the Eagle Award; presumably this will change in 2019 when girls in the new female Scout troops will be allowed to earn Eagle).
Other Venturer awards are open to all Venturers, and are considered awards, not ranks.
The Summit Award is Venturing's highest award, replacing the Venturing Silver Award in 2014. Neither award has the public recognition or prestige of Eagle Scout or the Sea Scout Quartermaster Award.
The Venturing Bronze, Gold, and Silver awards were discontinued as of 31 December 2014, replaced by the new Venturing, Discovery, Pathfinder, and Summit Awards, which became available in May, 2014.
Editorial Opinion—Given the name recognition, prestige, and life-long value of the Eagle Scout award, I don't understand why BSA doesn't simply create a 'Venturing Path' to Eagle, open to all male and female Venturers (at least until age 18).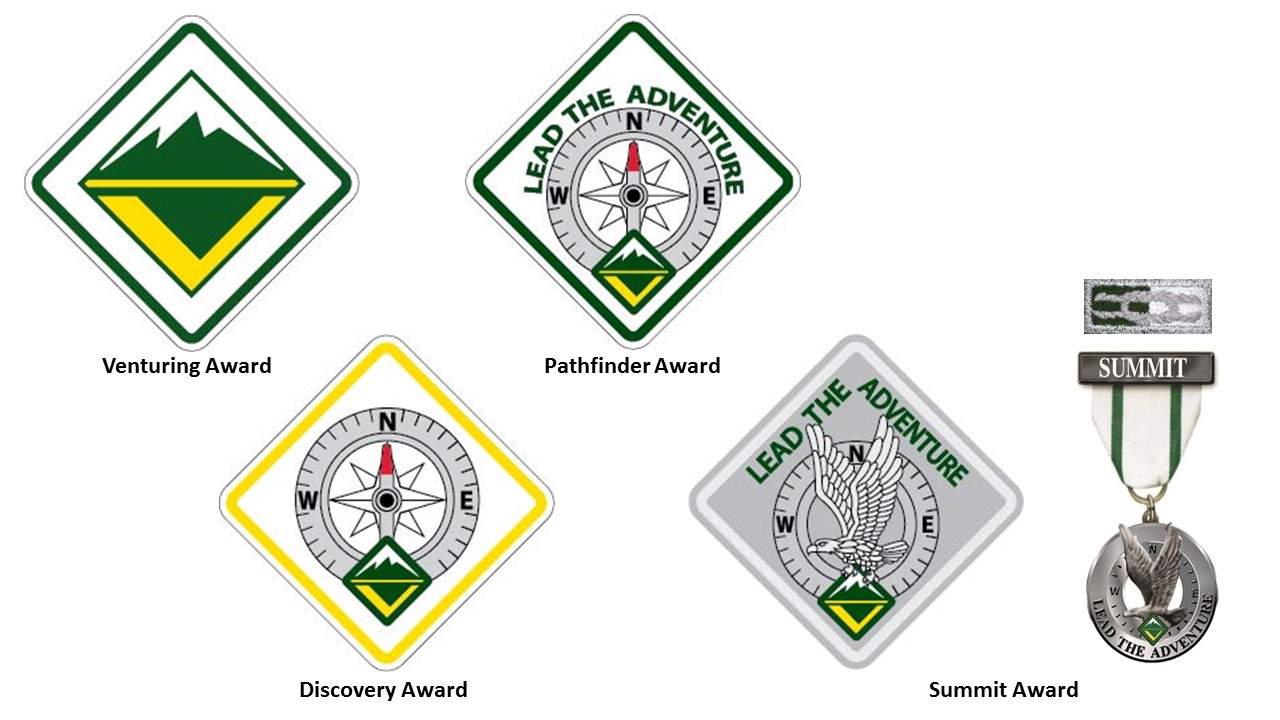 Other Awards for All Venturers & Sea Scouts
| | | |
| --- | --- | --- |
| Venturing Ranger Award (outdoor skills award) | Trust Award (religious award) | Quest Award (sports-related award) |
| | |
| --- | --- |
| National Youth Leadership Award | Venturing Shooting Sports Outstanding Achievement Award |

---
Age Requirements/Advancement/Highest Awards—
Cub Scouts (Cub Scouts [including former Tiger Cubs], Webelos Scouts)
Scouts (Scouts, Varsity Scouts)