HOME—Troop 97—New Scout Info
Troop 97 New Scout Information
NEW SCOUTS—READ THIS !
WELCOME TO ADVENTURE! Camping, cooking, exploring.... Doing things and going places that most people have never experienced.
It takes planning, learning, and practice to prepare for Adventure. And as you advance, you'll discover you've become a leader that others look up to and want to follow.
Advancement—This is where much of the learning happens. Earn your Scout rank right away, then Tenderfoot in your first month or two. Always bring your book to meetings and campouts.
Fitness—Adventures are easier, and more fun, if you're in shape. Practice fitness every day, and keep a record in your book (page 77 for Tenderfoot). There are 30-day or 4-week fitness requirements for Tenderfoot, Second Class, and First Class, so start today!
Weekend Campouts—We camp somewhere new every month. Sometimes we can sleep inside or out, but remember that Tenderfoot requires sleeping in a tent, and all but one of your Second Class and First Class campouts must be in a tent.
Summer Camp—A whole week of Adventure! And a different camp every year, all over Colorado, plus Montana, New Mexico, and South Dakota.
High Adventure—Once you achieve First Class, the Adventures get wilder and way more challenging. Spend a week or two far from civilization. Live off what you can carry. Handle summer snow, hail, even ocean waves,.... Backpack 50 miles at 12,000 feet. Paddle 260 miles near the Arctic Circle. Sail a 55-foot sloop on the ocean. Try to sleep where it never gets dark.
Important Advancement Information
"Must-Have" Books
The first, and most important, is the Scout Handbook.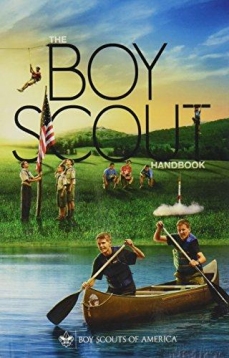 Current Boy Scout Handbook (13th Edition) [left]
Note that in early 2019, this will be replaced by two handbooks: Scouts BSA Handbook for Boys and Scouts BSA Handbook for Girls. The content of both new Handbooks should be identical to the current Handbook except for gender-specific photos and pronouns.
If you ever want to check the requirements for a merit badge or wonder about other special awards like Mile Swim, Interpreter's Strip, Leave No Trace, World Conservation Award, others; the 2018 Boy Scout Requirements book (#33216, 2018 printing, $5.99), updated almost every year, is also quite useful. [You can also find merit badge requirements online at "meritbadge.org".]
Scout Uniform
Where to Get Scout Uniforms / Equipment
Loveland
Loveland Scout Store (now operated by BSA National Supply)
at the Loveland Outlet Mall, south complex (I-25 & US34)
5604 McWhinney Blvd
hours—
Monday—Friday: 10:00 am to 8:00 pm
Saturday: 10:00 am to 5:00 pm
Closed on Sundays and holidays
970-203-9530
Online—BSA National Supply Online Retail Store [Scout Shop]
available on the Internet at www.scoutshop.org
More Information for New Scouts