HOME—BSA Handbooks & Handbook Covers—Patrol Leader Handbook
A Brief Background of the Patrol Leader Handbook (BSA)
(and other BSA Junior Leader Handbooks)
2002 Edition—The Patrol Leader Handbook (2002-2017)
The BSA now has both a patrol-leader-specific handbook, and for the first time, one for the SPL. Both are filled with full-color photos and artwork, and are coil-bound to lie flat. BSA ceased labeling Patrol Leader Handbook editions after 1990. This would be the equivalent of a 4th Edition.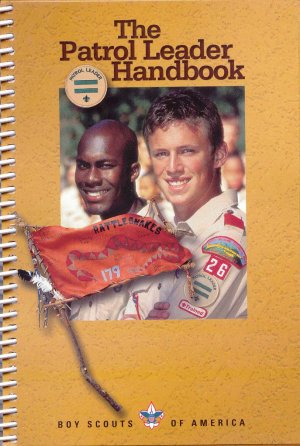 ---
Patrol Leader Handbook Summary and Printing History
title from title page—The Patrol Leader Handbook
author is Robert Birkby, who also wrote the 10th through 12th Editions of the Boy Scout Handbook
cover art is a photograph of a patrol leader and a patrol flag
2002-2017 (15 years)
?? copies printed
size 133x203x8 mm (5-1/4x8")
?? printings (I haven't kept up with different printings; any information you have is welcome), 128 numbered pages
---
Actual Patrol Leader Handbook Table of Contents
Opportunity and Challenge—Welcome to the Position of Patrol Leader
Building Patrol Spirit
Your Patrol and Your Troop
Leading Patrol Meetings
Leading Patrol Activities
Being a Good Leader
Other Patrol Leadership Positions

2017 Edition—Patrol Leader Handbook (2017-??)
This very mildly revised handbook would be the equivalent of a 5th Edition. Most photos were changed, and the text was slightly updated.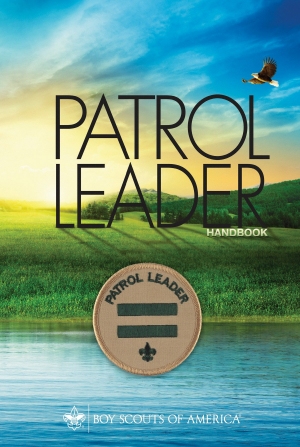 ---
Patrol Leader Handbook Summary and Printing History
title from title page—Patrol Leader Handbook
No author credit is given, though most of the text has only minor changes from Robert Birkby's 2002 edition.
cover art is a patrol leader patch superimposed over the same background as the current Boy Scout Handbook
2017-?? (1+ years)
?? copies printed
size 133x203x8 mm (5-1/4x8")
?? printings (I haven't kept up with different printings; any information you have is welcome), 152 numbered pages
---
Actual Patrol Leader Handbook Table of Contents (same as previous edition)
Opportunity and Challenge—Welcome to the Position of Patrol Leader
Building Patrol Spirit
Your Patrol and Your Troop
Leading Patrol Meetings
Leading Patrol Activities
Being a Good Leader
Other Patrol Leadership Positions

2002 Edition—The Senior Patrol Leader Handbook (2002-2017)
---
SPL Handbook Summary and Printing History
title from title page—The Senior Patrol Leader Handbook
author is Robert Birkby, who also wrote the 10th through 12th Editions of the Boy Scout Handbook
cover art is a photograph of an SPL carrying a folded US flag
2002-2017 (15 years)
?? copies printed
size 133x203x8 mm (5-1/4x8")
?? printings (I haven't kept up with different printings; any information you have is welcome), 128 numbered pages
---
Actual Senior Patrol Leader Handbook Table of Contents
Welcome!
Senior Patrol Leader Qualifications
Building Troop Spirit
The Troop Program
Running a Good Troop Meeting
Leading the Troop Beyond the Meeting Room
How to Be a Good Senior Patrol Leader
The Troop Leadership Team

2017 Edition—Senior Patrol Leader Handbook (2017-??)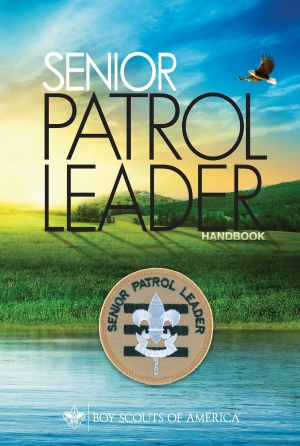 ---
SPL Handbook Summary and Printing History
title from title page—Senior Patrol Leader Handbook
No author credit is given, though most of the text has only minor changes from Robert Birkby's 2002 edition.
cover art is a photograph of an SPL carrying a folded US flag
2017-?? (1+ years)
?? copies printed
size 133x203x8 mm (5-1/4x8")
?? printings (I haven't kept up with different printings; any information you have is welcome), 144 numbered pages
---
Actual Senior Patrol Leader Handbook Table of Contents (same as previous edition)
Welcome!
Senior Patrol Leader Qualifications
Building Troop Spirit
The Troop Program
Running a Good Troop Meeting
Leading the Troop Beyond the Meeting Room
How to Be a Good Senior Patrol Leader
The Troop Leadership Team