HOME—Troop 97—Pasta Supper Information
Troop 97 39th Annual Pasta Supper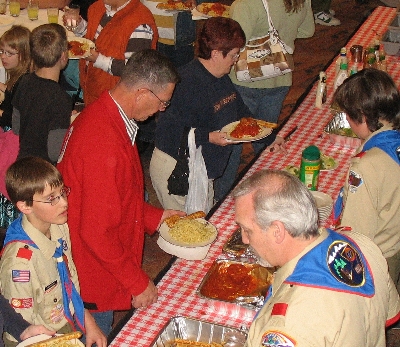 Senior Center, 1200 Raintree Dr, Fort Collins, CO
Saturday, March 24, 2018, 5:30 - 7:00 pm
(Auction begns at 6:00 pm)
Each year Troop 97 holds one major fund-raiser—our pasta supper. 2018 is the 39th year for the supper, and the 21st year for the auction. So come have a good meal, fellowship, an opportunity to get good deals on numerous live and silent auction items, and generally to support the character, citizenship, and fitness goals of Scouting in Troop 97.
The supper helps reduce the costs of Scouting for all our Scouts, especially the important week at a BSA summer camp. The supper pays for much of camp for our new Scouts, and reduces the cost significantly for the others. The supper also provides financial assistance for those who cannot afford uniforms or activities.
Troop 97 began in 1952, failed in 1956, restarted in 1959, and has been in continuous existence for the 59 years since. During that time, over 950 boys have been Scouts in Troop 97, and 186 of them have earned Eagle Scout.

Tickets are $8.00; children 5 and under free. You can buy tickets from any Troop 97 Scout or at the door.
Thanks!