HOME—Troop 97—Troop 97 Facts
About Troop 97

Troop 97 Facts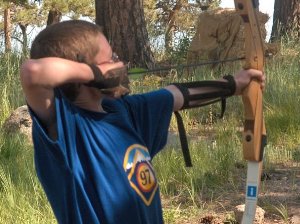 Archery at Summer Camp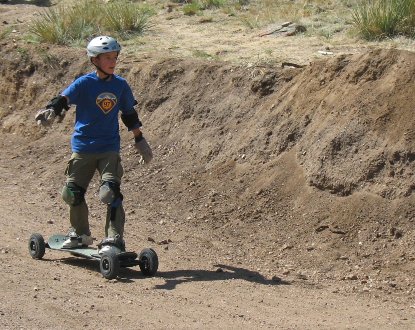 Mountain Boarding at Summer Camp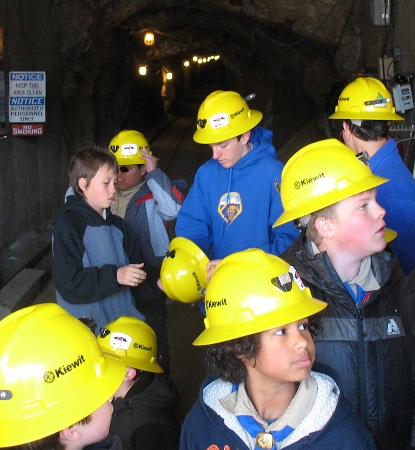 Preparing to Explore a silver & gold mine
that dates from the 1870's
Basics
Troop 97 began in March, 1952.
The troop failed in 1956.
The troop began anew in June, 1959, and has been in continuous existence for the 60 years since then.
Our chartering organization (sponsor) is St Luke's Episcopal Church, 2000 Stover St, Fort Collins, CO.
Membership Data (as of August 2019)
53 Scouts (49 boys & 5 girls)
16 current active uniformed adult leaders
The 'linked' girls troop has just gotten started, but it's growing, and all 5 girls went to summer camp in Montana (and earned 18 merit badges, among other activities).
more than 50 adults cover numerous support and troop committee roles, including providing merit badge counselors for almost every one of Scouting's 130+ merit badges
Schools
11 elementary & middle schools (grades 5-8)
8 high schools (grades 9-12)
plus 4 home-schooled Scouts
Churches
63% of our Scouts belong to a church (representing 20 local churches)
37% of our Scouts do not attend a church
Former Cub Scouts/Webelos
78% of our Scouts earned the Arrow of Light as Cub Scouts
67% of our Scouts joined directly from a Cub Scout pack (from 13 different packs)
16% of our Scouts had been in another troop, either local or in another state
16% of our Scouts had never been in Scouting until they joined T97
Younger Scouts
You've got fellow Scouts aged 10-13, who attend 11 different schools.
There's a good chance you'll know some Scouts a grade or two above you at your school, from Troop 97.
You've got senior Scouts to help you advance, and can teach you the skills based on their experience when they were younger.
Senior Scouts
Troop 97 has more senior Scouts than most troops or Venturing crews.
You've got fellow Scouts aged 14-17, who attend seven different high schools.
You work with and teach the younger Scouts, but you've also got plenty of older Scouts to do things with, too.
As you advance toward Eagle, it helps to have other Scouts working on the same things.
Eagle Scouts
26% of all Troop 97 Scouts since 1979 have earned Scouting's highest rank (20% since the troop's founding in 1952)
187 Troop 97 Scouts have earned Eagle, 149 since 1979
Parents
22% of our Scouts come from single-parent/step-parent families
35% of our Scouts have at least one parent actively involved
Scoutmaster
Jeff Snowden is the troop's 16th Scoutmaster. He has:
been in Scouting continuously since 1959 (60+ years)
been a Scoutmaster since 1967 (52+ years)
been with Troop 97 since 1978 (41+ years)
been involved in Scout and adult leadership training for the district, Council, and Region since 1968, including serving as course director for Scouting's week-long Wood Badge advanced adult training course
been awarded the Silver Beaver (national BSA award for service to youth) and the Episcopal St George Award (national award of the Episcopal Church for service to youth)