HOME—BSA Handbooks & Handbook Coverss—Scoutmaster Handbook
A Brief Background of the Scoutmaster Handbook (BSA)
9th Edition—The Scoutmaster Handbook (1998-2013)
Cover is a color photo-montage of smiling Scoutmasters, and Scouts hiking. It's attractive, with full-color photos throughout. But its huge size (8.5x11"), and the fact that it must be placed in a ring binder when you remove it from its clear wrapping, makes it awkward to use. No Scoutmaster will bring this thing to a campout, or be likely to take it with him to troop meetings. Give me back a real handbook that I can keep in my briefcase or take camping.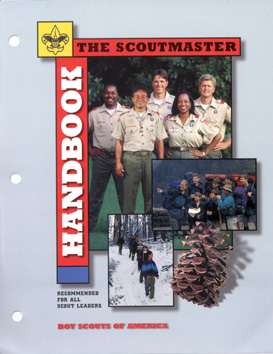 ---
9th Edition Summary and Printing History
title from title page—Scoutmaster Handbook
author uncertain
cover is photo montage of smiling Scoutmasters and Scouts hiking
1998-2013 (15 years)
?? copies printed
size 216x279x12 mm (8-1/2x11")
?? printings (I haven't kept up with different printings; any information you have is welcome):
—1st printing (Dec 1998, 55 000 copies)—188 numbered pages
—2nd printing (2000?)
—3rd printing (2001?)
—4th printing (2002?)
—5th printing (2003?)
—6th printing (2005?)
---
Actual 9th Edition Table of Contents
1. Welcome, Scoutmaster!
2. The Adventure of Scouting
3. The Boy-Led Troop
4. The Boy-Led Patrol
5. Troop Meetings
6. Program Features
7. Training Junior Leaders
8. Troop Program Planning
9. The Outdoor Program
10. Advancement
11. Working with Boys
12. Membership
13. Opportunities for Older Scouts
14. Awards and Recognitions
15. The Uniform and Insignia
16. Chartered Organizations and Troop Committees
17. Troop Finances
18. Scoutmaster Support
19. Community Service
20. Resources

10th Edition—Troop Leader Guidebook (2013?-present)
Volume 1 cover is a color photo of Scouts jumping off a raft into a lake. Volume 2 cover is a photo silhouette of a Scout backpacking.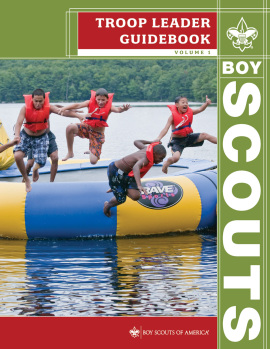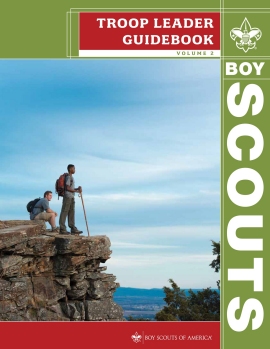 ---
BSA have announced that a new, two-volume Scoutmaster handbook will be released in late 2013 (it's a few months behind schedule). This will be the first two-volume SM handbook since the 3rd Edition in 1936. BSA retitled it "Troop Leader Guidebook" to emphasize that it is aimed at all adult troop leaders, not just the Scoutmaster.
Volume 1, written by Mark Ray (who also wrote The Scoutmaster's Other Handbook), is aimed at new leaders, and will cover things like the patrol method, how to conduct troop meetings, the year-round program, and more. Volume 2, written by Bob Birkby (author of the current Scout Handbook), is aimed at more experienced troop leaders, and will have more in-depth information about high adventure, youth & adult training, and more.
I'm crossing my fingers that these two volumes will be bound books and not another cumbersome loose-leaf insert for a bulky 3-ring binder.