HOME—Troop 97—How to Visit/Join
About Troop 97

How to Visit / How to Join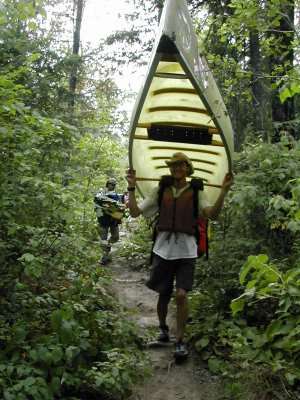 Portaging in Canada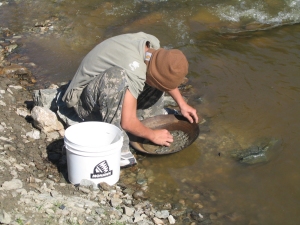 Panning for Gold near the Arctic Circle



Latest BSA Quality Unit Award, highest level
('Journey to Excellence', gold level)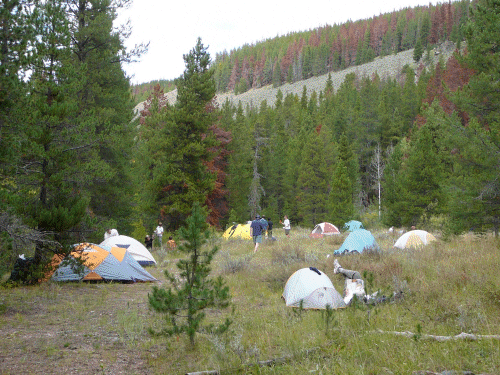 Troop Campsite Somewhere 'Out There'
How/When to Visit
Scouts get to camp, hike, canoe, bike, and generally enjoy challenging adventures in the outdoors.
Boy Scouting is totally different from Cub Scouts and Webelos.
We hope your son is interested in becoming a Scout. If so, you and he should visit several troops to see which one most appeals to you.
Troop 97 meets Mondays, year round, typically:
2 "regular" Monday meetings per month (7 to 8:15 pm)
1 planning meeting for elected boy leaders
certain other special meetings and outings
1 overnight campout per month
1 week at a BSA summer camp each year (sometimes in another state)
1 to 2 weeks on a challenging Adventure Trek each year for experienced Scouts
You are welcome to visit any meeting and most campouts.
Contact the Scoutmaster to verify our schedule and come on by.
Who Can Join/When to Join/How to Join
To join, a boy must be minimum age 10 and either have finished Fifth Grade, OR have earned the Arrow of Light Award, OR be age 11 (whichever occurs first). He does not need to have been in Cub Scouts or Webelos.
Troop 97 expects its members to be active, to wear full uniform, and to advance regularly. We expect parents to be active with their son.
Troop 97 is open to any boy who meets these requirements, and who subscribes to the principles of Scouting contained in the Scout Promise and Scout Law. Membership in our sponsoring church is NOT a requirement (actually, most of our Scouts do not belong to our sponsor).
Although Scouts can join anytime during the year, most join between January and May. It is very important for new Scouts to attend summer camp their first year (which is why our Scoutmaster and a dozen or more of our Assistant Scoutmasters and parents will spend the full week at camp with the Scouts).
For more information, email, phone, or come to a meeting.
What about girls?
The Boy Scouts of America will allow separate troops for girls starting 1 February 2019. When both a boys' troop and a girls' troop share the same chartered organization, they are called 'linked' troops and share the same troop number. It takes at least five girls and several adults (both male & female adults can be involved) to start a troop, and Troop 97 is prepared to support a linked Troop 97 for girls when there is a demand. So let us know!
More Information about Troop 97
Email the Scoutmaster with your questions or needs. Or to arrange a visit. We'll look forward to meeting you and your son.