HOME—Troop 97—Eagle Scout Resources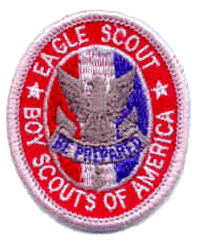 Troop 97
Eagle Scout Resources
Here are some resources you need to help you along the rugged path to Eagle Scout (PDF files).
[HINT—Print these out and read them before you start your Eagle service project, or better right after you pass your Life Scout Board of Review.]
Standard Paperwork
BSA Eagle Rank Application & BSA Eagle Scout Leadership Service Project Workbook (on the Longs Peak Council's 'forms' page—Look on the "Eagle Scout" list under "Boy Scout Forms"). You'll need to fill out the 'workbook' as you go along, and get signatures from Scoutmaster, troop committee chairman, district Eagle chairman, and person in charge of the agency where you are doing your Eagle service project)
There is also helpful Eagle Advancement Information for our local Cache La Poudre district. Be sure to use the CLP district "Eagle Scout Candidate's Guidebook".
Addtional Legal Paperwork REQUIRED for your Eagle Service Project
After your Eagle Service Project is approved, you MUST complete two more paperwork items, which both protect you and provide a checklist of safety protocols to follow:
You must submit a BSA "Tour Plan" two weeks in advance to the Longs Peak Council office. Here is a link to the tour plan form on the BSA website. You WILL have questions about some of it, so check with the Scoutmaster about information you need. Fill out the first two pages, and the third page will populate automatically. Note that the tour plan must be signed by our committee chairman and by the registered adult tour leader.
You must get a signed permission form from every youth (under-18) participant, whether or not they are a Scout. There is a template on the T97 Member Only page.
A Couple Items just for your Curiosity and Interest
Eagle Scout Service Projects done by previous Troop 97 Eagles
Conservation (trails, maintenance, picnic areas, erosion control, etc)
bat boxes
Big South Trail work
boardwalk at Flatirons Open Space
bridge at Sky Ranch
bridge/maintenance at nature area
Cathy Fromme Open Space improvements (2 different projects in 1998)
ecology message to younger children
Estes Park area trail work
fencing (3 different projects in 1991/98)
fish habitat improvements
Horsetooth Mountain Park
Lions Head Trail (Estes)
Lions Park improvements (Fort Collins)
Lookout Mountain trail work
Mountain Park (3 different erosion projects in 1979/81)
neighborhood street planting/improvements
packaging/distributing tree seedlings
Pingree Park trail work
Rawah campsite improvements
Rocky Mountain National Park campsite improvements
tree planting/landscaping (USFS, Preston JH, Horsetooth Field of Dreams, Kruse baseball field, Werner natural area, Environmental Learning Center, Linton, Laurel)
Washington state trail work (!)
campsite re-vegetation
Dixon Cove (removing Russian Olives)
Lory State Park (trail work)
Helping the Needy
Christmas trees for shut-ins
Elderhaus safety features
food collection
handicapped chairs at Early Childhood Learning Center
landscaped house for Ft Collins Housing Authority
landscaped 3 houses for Habitat for Humanity (3 different projects in 1992/95/98)
packaged/sorted food for Larimer County Food Distribution Center
snow shoveling program for the elderly
Special Olympics
used toy drive
Other
benches for Catholic Community Services Northern & in Golden Meadows Park
church bulletin boards
church landscaping
church sidewalks
church Thrift Shop re-modeling
ColoradoRun parking
compost bins at Senior Center
fence relocation at Discovery Center
Firecracker 5 kids race
Foothills Mall safety village
Fort Collins Bike Trails (4 different projects in 1984/91/94/96)
landscaped city archery range
plant annuals at Senior Center
playground at school
playground at church/pre-school
recycling bins at FCHS
landscaping at St Luke's
Girl Scout canoe day
neighborhood watch