HOME—Troop 97—Info for All T97 Scouts & Aduls
Information for All T97 Scouts & Adults
Summer Camp & High Adventure Medical Form for Scouts & Adults (PDF you can fill out on your computer)
General Information for All Scouts
Advancement
BSA Online Training for Parents and Adult Leaders
Here's a quick and fairly painless way to learn more about Scouting. Most take 30 minutes to an hour. Some will be required for certain Troop 97 activities (click here for a single-sheet summary of training requirements for adults in various Scouting roles). Why wait? Find out more!
Go to the BSA 'My Scouting' page for training, including:
BSA Youth Protection (required for all registered adults and on many activities; valid for 2 years)
BSA "Hazardous Weather Training" (required for at least one adult on all outings; valid for 2 years)
BSA Safe Swim Defense and Safety Afloat (how to have safe aquatic activities; valid for 2 years)
BSA "Trek Safely" (required for adults on treks; valid for 2 years)
BSA "Scoutmaster & Assistant Scoutmaster Position-Speciflc Training" (valid forever)
BSA "Climb On Safely" (training for climbing activities—NOTE that conducting a climbing/rappelling activity requires specialized certification well beyond this introductory training; valid for 2 years)
BSA "Troop Committee Training" (good orientation about troop committee functions in 3 modules; valid forever)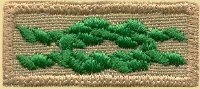 Religious Awards
Information about religious awards for Scouts can be found on the national BSA website at Chart of Religious Emblems, which includes links for more information from most denominations.
Troop 97 Songs
---
Last Revision to This Page: 20 October 2021
Copyright © 2000-21 by Troop 97 BSA