HOME—US Scouting—BSA Councils in Colorado
BSA Councils in Colorado
The state of Colorado is served by five of the BSA's roughly 260 local "councils". It is these councils that are directly responsible for the BSA program within their assigned territories. Far southwestern Colorado is assigned to the Great Southwest Council (Albuquerque, New Mexico). Most of the rest of the "West Slope" (Colorado west of the Continental Divide) was formerly in the Western Colorado Council, which merged into the Denver Area Council in May, 2019. The Colorado "Front Range" plus the state's eastern plains are divided into four councils, from north to south: Longs Peak Council, Denver Area Council (now including the West Slope), Pikes Peak Council, and Rocky Mountain Council. Of the four councils headquartered in Colorado, only Longs Peak Council extends beyond the state borders, covering much of Wyoming plus the Nebraska panhandle [see below for information about the 2021 merger of the Greater Wyoming Council and Longs Peak Council].
Colorado Scout Council Summary (listed from largest to smallest)
[Membership numbers will definitely fluctuate over the next couple of years, with the loss of the involvement of the Church of Jesus Christ of Latter-day Saints, and with an unknown number of girls joining Cub Scout packs (starting in 2018) and Scout troops (starting in 2019). Youth membership shown covers traditional Scouting (Cub Scouts, Scouts, Venturers/Sea Scouts) plus Explorers; the separate in-school Learning for Life program is not shown since most councils don't show those numbers in their annual report.]
Denver Area Council, headquarters Denver (covering the Denver metro area plus the former Western Colorado Council), 23 327 youth members [from 2019 annual report]

Longs Peak Council, headquarters Greeley (covering 10 northern/northeastern Colorado counties, plus 5 southeastern Wyoming counties and 12 Nebraska panhandle counties), 7493 youth members [from 2019 annual report]—Longs Peak Council and Greater Wyoming Council (which covers more than half the state, in 11 counties) will officially merge on 1 May 2021. The combined council will choose a new name and design a new shoulder patch.

Pikes Peak Council, headquarters Colorado Springs, 6049 youth members [from 2019 annual report]

Rocky Mountain Council, headquarters Pueblo, 1429 youth members [from 2019 annual report]

Great Southwest Council, headquarters Albuquerque, New Mexico (covering northern & central New Mexico plus the "Four Corners" area of adjacent Arizona, Utah, and Colorado), 6548 youth members [from 2019 annual report] (the number of youth members in the 5 southwestern Colorado counties is very small)

---
Longs Peak Council
Since Troop 97 is in Longs Peak Council, here's a little additional information about our local council, which is named after the highest peak in the council's area (4346 m/14 259 feet). For administrative purposes, most councils sub-divide their territory into several geographic "districts". Longs Peak currently has six districts (Troop 97 is in the Bighorn district). [Note that we will update this information once the combined Greater Wyoming-Longs Peak Council has selected a new Council name and the addition of Greater Wyoming's two districts.]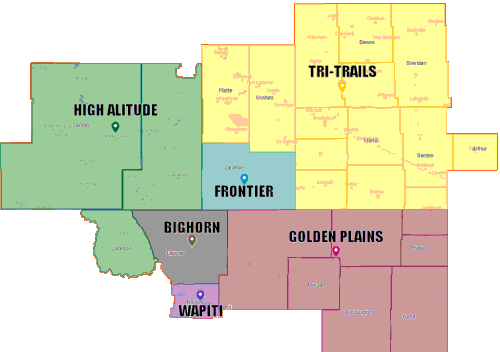 Council-owned Camping Properties
(five camps, four owned by former Longs Peak Council and one owned by former Greater Wyoming Council)
Ben Delatour Scout Ranch, Red Feather Lakes, Colorado, summer camp and year-round camping, altitude about 2100 m (6800 ft).
Chimney Park Scout Camp, Woods Landing, Wyoming, year-round camping, especially winter camps, altitude about 2700 m (9000 ft)
winter snow depth typically from 15 to 60 cm (6 inches to 2 ft)
winter daytime high temperatures typically from -9 to +7 deg C (+15 to +45 deg F)
winter nighttime low temperatures typically from -26 to 0 deg C (-15 to +32 deg F)
lodge with stove and fireplace available
Camp Laramie Peak, near Wheatland, Wyoming, summer camp and year-round camping
Camp Patiya, near Boulder, Colorado, year-round camping
Camp Buffalo Bill, near Cody, Wyoming, summer camp and year-round camping
Bighorn District
(district information on Longs Peak Council website; the new Bighorn district is the combination of the former Cache La Poudre and Rocky Mountain districts, effective 1/1/2019)
Larimer county and adjacent western Weld county, Colorado (Fort Collins/Loveland/Estes Park/Red Feather Lakes/Windsor & vicinity)
1 full-time professional Scouter and a large staff of volunteer Scouters
The district has 20 Cub Scout packs (16 'family' packs [boys & girls] + 4 boy-only packs), 26 Scout troops (5 pairs of 'linked' boy & girl troops + 16 boy-only troops), 4 coed Venturing crews (all linked to Scout troops), and 2 coed law-enforcement Explorer posts. The district has no girl-only packs and no Sea Scout ships.
Organizations chartering Scouting units include 17 churches (1 Church of Christ, 1 Episcopal, 6 Lutheran [4 ELCA & 2 M.S.], 1 Non-denominational, 3 United Methodist, 3 Presbyterian, 2 Roman Catholic), 9 public elementary schools & 2 charter schools, and 9 other organizations (2 American Legion posts, 2 Lions clubs, 2 Police and Sheriff's Departments, 1 Realty firm, 1 VFW post, 1 local).
---
Last Revision to This Page: 23 April 2021
Text copyright © 1996-2021 by Troop 97 BSA
Images are either non-copyright or are copyright © their respective organizations